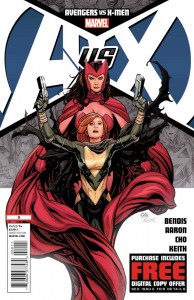 That's right NCP fans, the Marvel Comics crossover event of 2012 will be Avengers vs X-Men and you heard about it first on the Nerd Culture Podcast!
Loyal NCP listeners will of course know that on episode #10 we featured an interview with Frank Cho, in which he let slip that he was working on a 'secret upcoming project at Marvel. Written by Brian Michael Bendis and Jason Aaron' that he couldn't discuss. When I asked if it perhaps featured the Spider Woman, he looked very surprised and responded 'Yes actually.'
And now we know that project! Mr Cho is penciling Avengers vs X-Men #0, the prologue to the event, featuring the crucial roles of the Scarlet Witch and Hope Summers in the coming war.
I'm really looking forward to this crossover, and knowing that we were the first to reveal its existence to the interwebs makes it even more exciting!
Look for more news on this event right here, on NerdCulturePodcast.com