Until David asked me to do a piece on my online gaming experience I had only ever played one RPG MMO, Dungeon and Dragons Online.  So, what to compare it with?  World of Warcraft was suggested, but at the start it sounded like I was comparing a donkey to a thoroughbred.  World of Warcraft has the servers, longevity and popularity that far exceeds any other RPG MMO.  What did pokey DDO have to offer in comparison?  But then I started playing WOW and came to what I thought was a surprising conclusion.
Choice of Systems
First point went to WOW as I could play it on my beloved shiny 21inch iMac.  To play DDO I had purchased a Sony Vaio which in its specs was just the ticket for playing online but in reality continually reminds me why I am a Mac owner.  Dropouts, video card stuffing around, an inability to do screendumps and trips to the computer repair shop that exceed my visits to a Mac store all make me happy to be playing on a iMac.
Free vs Pay
Until very recently DDO was the only one of the two you could play for free (P4F) as opposed to pay to play (P2P) for any great length of time.  There are limitations to the freeness of DDO, a P4F member does not get access to all quests or wildernesses, does not easily gain access to some races and classes and can not advance to the higher levels.  WoW provides a starter pack which allows you access to the first twenty level of the game.  Still, out of the two, DDO has the better co-op and feels like it was important to the developers to have it.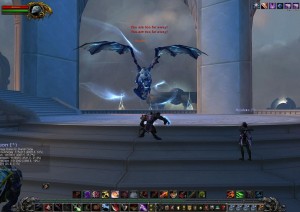 Co-op dungeons vs online Storytelling
When I started playing, I immediately noticed the difference in emphasis between the two games.  WoW is an online game with co-op as a feature.  You experience this world solo and only when fully advanced do you begin to participate in quests with other party members.  DDO, based on the pen and paper Dungeons and Dragons (D&D) is all about co-op play.  Besides a very few early quests (incorporating the first quest and tutorial) you can form a party and complete all the quests in the starter area (Krothos Island).  You can even be part of a guild containing much higher characters (though if they're more than 3 levels above you they can not join you in quests without massive experience penalties).  Questing as a group allows lower level characters to do quests at much higher levels and so gain more experience (for levelling) and favour (for gifts or access to house specialities). It is actually impossible for a solo character to complete higher ranking quests.  No one character contains all the skills necessary to complete fully or even sometimes finish these quests.  In contrast, in the early levels, WoW is all about solo play. You wont even need to find a group until you enter an Instanced dungeon and almost all quests can be done alone. At higher levels co-op becomes more important and is the main goal of the majority of players, as they 'grind' to reach to current maximum of 85 and begin raiding.
Pretty vs Gritty
The next thing you notice is how pretty WoW is in comparison to DDO.  It's full of light and colour compared to the earthy dull tones of Stormreach, the main town in DDO.  I actually believe this is more a style thing than a quality of graphics.  DDO is more gritty, realistic whereas WoW is over the top characters (it is here where the toon label is most descriptive) with oversized weaponry and impractical armour.  This comes down to taste and it must be said that the DDO realism seems out of date with many of the RPG games being developed.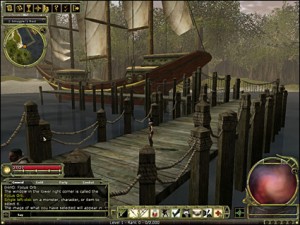 Auto attack vs Manual attack
I'm not sure if I get the point of a character that fights for itself.  In WoW once a nearby enemy is highlighted your character attacks until one of them is dead.  Though DDO there is a feature called Auto Attack which in reality just means the character is read for attack at all times (in a fighting stance) giving them an advantage for first strike. Personally, I'm not sure a person is actually playing the game if their character is choosing all the strikes.  Feel free to disagree.
Realistic weapons vs stylised weaponry
When you start questing with your characters major differences start becoming apparent.  Weapons in DDO do what you expect them to do.  There are no silly weapons (for example paint guns) just a variety of military, simple and exotic weapons that classes are proficient in.  Not to say that they can't be magical, DDO weapons can be highly magical with almost any affect that a magical spell can do incorporated.  The only exception to the no joke weapon rule is a greatsword called Insanity (http://ddowiki.com/page/Insanity)  which is a massive weapon typical of those you would find in WoW. But because of the weapons massive size balance and dexterity penalties are imposed on a wielder so it acts somewhat like how you'd expect such a weapon to work in real life. In saying that I know one character (with a generous helping of dexterity) that makes good use of this sword.  Not such a joke for their enemies!  On WoW my Rogue just received Stealth at 5th level and is still without a range weapon, which is unheard of for such a lightly armoured character in DDO.  As a result, until recently she had had to rush head long into fights like a fighter with twice her armour and strength.  Such setups are unrealistic and ultimately unsatisfying as there may as well not be any classes if you can not equip a character to suit her skills.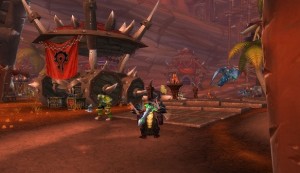 Load screens vs no Load screens
The lack of load screens of WoW is a real bonus (only instanced dungeons and major zones have them).  Characters run around a world with few boundaries and nothing to remind players they are in a computer game.  In DDO there are load screens at the beginning of any new area or dungeon that, once you've been through a few of them, slows down travel.  I don't feel load screens are a deal breaker and often they are handy as your character is sometimes healed up moving from one area to another, but they can complicate co-op play when others can see you're in a dungeon but you're still on a load screen.
Conclusion
In conclusion, which RPG MMO (and there are many more to chose from than these two) you choose is completely up to you and your style of play.  For me, if I wish to play a game solo I'll play it offline on a console where my gaming experience is far more comfortable than stuck at a keyboard. The only reason I log on is for the group experience to share an adventure, victory or failure with a group of human beings.  Those who come to DDO and are frustrated with having to deal with the human personalities should probably switch to WoW.  It's pretty, the world is bigger and richer, the storytelling is better, and the characters fantastical.
So, what are you looking for in a game?