For those of you following our epic coverage of the DC New 52 (and if you weren't, shame on you!), you will be aware of my disappointment at some of the revamp choices. I won't go into details again here, but generally they ranged from boring (JLA costume changes) to WTF (Starfire). Well all of that almost pales in comparison to DC's latest announcement of a brand new Ray.
I have been a fan of the Ray since I discovered a back issue of his origin mini series. He looked cool, was a great character, struggling to get a grip on his newfound powers and was really nice. I rapidly scoured the Earth for all of his issues and even purchased comics he appeared in. I know, obssesive.
Original Ray
(well, Ray II to be precise)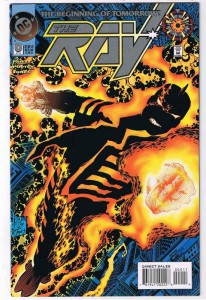 But now, DC has ruined it all by revealing their new version of The Ray – and I'm not happy. Here is the blurb – 'Lucien Gates's life is changed forever when he is struck by a mysterious beam of energy that turns him into a glowing gladiator – and being a human ray of light comes in handy when his city is suddenly under attack from giant, building-sized monsters. Unfortunately, light powers are less than handy in keeping his girlfriend happy.' Maybe his girlfriend preferred the original Ray too? 🙂
New Ray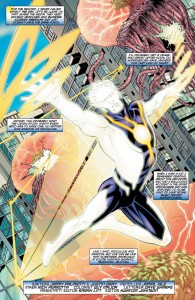 Obviously not the level of disgrace that was Starfire, but almost. How does this guy compare to the awesomness of Ray Terril?!
Shame DC, shame.