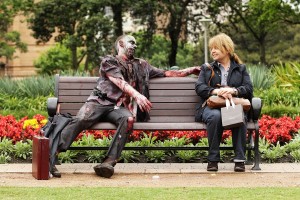 Anyone who knows me is aware of my fondness for all things Zombie (please don't fuck up World War Z Mr Pitt!). So that's why I'm happy to remind everyone that this Sunday is the Melbourne Zombie Walk!
Sunday, October 30 · 1:00pm – 4:30pm
Meeting at: Carlton Gardens
Meeting Time: From 1pm
Shuffle Time: 2pm
Either dress up or just show up, as long as you have fun!
Maybe I'll see you there 🙂
Official Facebook page – Melbourne Zombie Shuffle 2011