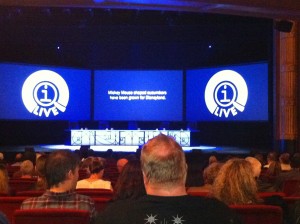 CRYSTAL: We got to Her Majesty's theatre nice and early, grabbed our seats, sat and waited while the theatre filled up. Eventually it was show time, and I was more excited than I expected when Mr. Stephen Fry walked onto the stage. He seemed immediately comfortable with the audience.
DAVID: We did get there quite early and despite a ban on photography I managed to sneak a quick shot (my apologies Her Majestys).
Despite not being as big a fan of Mr Fry as Crystal, I am definitely what you would call a fan, and I was also quite excited to see him on stage. He is a natural performer and a lot of fun. The audience was also obviously excited. The roar of applause that greeted him was tremendous and you could feel the reverence in the air. If Mr Fry was to start his own religion he would have no trouble finding followers it seems.
CRYSTAL: He spoke for some time, which was unexpected. I thought we'd get into the show much sooner than we did.  I guess if we were ever to see Stephen do stand up, this is what it would be like. He talked about  his first time in Australia 30 years ago ("almost to the day"), when he toured with the Cambridge Footlights with fellow students Emma Thompson & Hugh Laurie. He showed a poster for that show 'Botham, the Musical' And made a wry reference to the $5 ticket price. I've heard many grumbles about the ticket prices for QI live, which were quite expensive.  Alan Davies said on Twitter that 'the promoters set the price, and there was nothing they could do about it.'
DAVID: The ticket prices were outrageous but what can you do? We wanted to see Stephen and Alan and this was the only way to do it. Although I have to disagree with Mr Davies. I'm sure if both he and Stephen demanded the prices be reduced they would have done so.
CRYSTAL: Everything he said was fascinating (even though I already knew some of it from his autobiography 'The Fry Chronicles')  I especially loved the Billy Connelly and John Cleese impressions. I really love when Stephen does Billy; he sounds just like him!
DAVID: He is an excellent mimic and the parrot joke was hilarious, but to be honest I would have preferred a bit more about him. If I wanted to hear Billy Connelly jokes I would go to a Billy Connelly show. I haven't read Stephan's autobiography so a few more humorous anecdotes from his own life would have been welcome.
CRYSTAL: He also explained how he got involved with QI; that the producer and creator, John Lloyd had taken him out to lunch and explained the idea. He couldn't get his first choice as host, Michael Palin, and was wondering if Stephen would be interested. Stephen said he didn't really want to be cast as the pompous school master, but consented to do it for the pilot. Fortunately (or unfortunately for him) he was so good, he was asked to stay.
DAVID:  We've seen the Making of QI special, so I was familiar with this story, but it was still cool to hear Stephen tell it.
CRYSTAL: He had not long finished lamenting that he didn't want to be the pompous school master, when he slipped into that very role, correcting his first guest, Colin Lane, with the proper pronunciation of the word 'formidable'.
DAVID: I've never been a fan of Mr Lane's comedy so I wasn't terribly excited when he was announced as the first guest. And my opinion didn't change as he found success with his 'walking off the stage' bit and then continued to milk it through the show. It wasn't funny the first time, and surprisingly it didn't get any funnier the more times he did it.
CRYSTAL: The rest of the panel included Denise Scott, Andrew Denton and of course, Alan Davies. Stephen tried to trick us by saying Alan couldn't be there, and it almost worked on me, but I kinda knew he was joking but also could feel crushing disappointment ready to wash over me if he wasn't there. I really don't think I would've enjoyed it nearly as much if Alan wasn't there. Luckily though he was!
DAVID: I am not ashamed to say that I felt a weird heart skip when Stephen alluded to Alan not being there. They are a great double act and the show just wouldn't be the same without him. Luckily Mr Fry is no more a good liar than myself and it was almost immediately evident that he was telling a fib, and Alan leapt on stage to thunderous applause. Obviously the audience also feels the same way about him.
As for the other Australian guests, Andrew Denton is without doubt one of the creative geniuses of our entertainment industry so I had no problem with his inclusion and I have always liked Denise Scott on Spicks and Specks so she was also welcomed, but as I mentioned above Colin Lane leaves me cold.
CRYSTAL: The Australian panellists were good, but I would've preferred to see some of the other regular panellists from the show.  My dream QI team is Alan, David Mitchell, Bill Bailey and a toss up between Sean Lock & Phil Jupitus…what's yours?
DAVID: I'd go with Alan, David Mitchell, Rob Brydon, Sean Lock & Jimmy Carr, but all of them are awesome. I'll never forget the cornflakes bit with Johhny Vegas!
CRYSTAL: QI is full of facts and there is always one that sticks with me after I watch an episode. QI Live was no different and the strange fact I came away with was 'Kangaroos can't fart'.
DAVID: Well that about sums it up J. Overall a fun night. I would have liked some more of the quiz show part, but considering how annoying I found Colin Lane I guess it was ok to end it where it did. And it is always a good night out and about with my lovely wife.
Did you see the show too? What did you think? Or are you also addicted to the TV show and have a dream team of your own? Drop us a comment, we'd love to hear from you!