Being nerds we of course had to take advantage of the fact that we were in New Zealand and do some serious Lord of the Rings style sightseeing.
Hobbiton
Our first stop was Hobbiton, the set of The Shire. A tour guide led our group of about 30 people around and offered some fun facts about its development. It was very cool.
The set was constructed in 1999 and used for filming in all 3 films, but when filming was done 2/3 of the set were demolished. Luckily someone was smart enough to realise the money making potential of keeping the site open for tours and the surviving pieces were left for the huge amount of LotR fans to visit. But not long before our visit the site was recreated with brand new pieces in preparation for filming on The Hobbit. Hobbiton was returned to its full glory and we were part of the lucky few who were able to see it before it was closed for filming. In fact, it was closed 3 days after we were there and they are filming there right now!. Because of this we were made to sign confidentiality forms stating that we couldn't post any pictures on the net or even discuss some of what we saw. Silly, but that's Hollywood for you. So, that means I wont be able to put any pics in this post and I'm limited in what I can say so I will write only this and move on – it looks awesome!
Learn more about the Hobbiton tour here – www.hobbitontours.com
Flat Earth Tours
Our next exposure to the behind the scenes magic of LotR was in Wellington. This personalized tour takes a small group of people in a very cool mini van (electronic doors!) around the LotR filming locations in the Wellington area. Luckily for us we were the only people booked for our tour that day and our guide Mike was a very knowledgeable (of course) and generally awesome guy (bonus!). Part of Mike's awesomeness was the fact that he was also a nerd. While traveling to the various sites we discussed all kinds of nerd related topics (seriously, his nerd knowledge rivaled my own!) and of course I took the opportunity to plug the site/podcast. These two factors combined were even enough to offset the fact that it was raining for most of the tour. The only thing the rain really affected was the walk to Rivendal so it wasn't so bad.
So, give a Flat Earth tour a thought if you're in Wellington, you wont be sorry. It is a great tour. Learn more about Flat Earth Tours here – www.flatearth.co.nz
Here are some of the sights from the tour:
Buckland Forest used in the "Get off the Road"/hiding from the Black Riders scene, falling down the edge after running through the corn field, and where they found the mushrooms
Weta Studios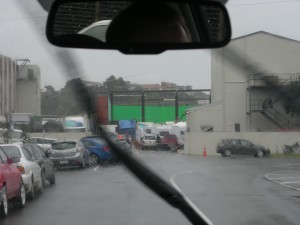 The awesome Weta Cave – www.wetanz.com
the Anduin River where the Fellowship voyaged to Amon Hen
and the quarry used for the filming of Helms Deep in Rohan and Minas Tirith in Gondor