I have a lot of respect for Kevin Smith. He is the living embodiment of the Nerd Who Made It. He's funny (his stage shows and film commentaries are hilarious), influential, and just seems like a nice guy.
Unfortunately I can't say the same for most of his films (or terrible comics for that matter, but that is for another post).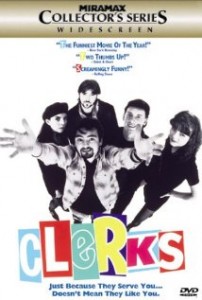 Clerks
Released: 1994
Written by: Kevin Smith
Starring: Brian O'Hallaran, Jeff Anderson, Jason Mewes, Kevin Smith
Plot: A slacker comedy about a day in the lives of two convenience clerks named Dante and Randal as they annoy customers, discuss movies, and play hockey on the store roof.
For: This is practically a documentary for all people who have worked in retail. Drawing on his own experiences, Smith has crafted one of the funniest looks into the seemingly dead end lives of all retails workers everywhere, and also introduces the world to the great comedic duo, Jay & Silent Bob. His finest work.
Against: Gets a little slow in places. Dante's not a very likeable character.
Favourite Scene: Silent Bob suddenly bursts into dance, 37!, Randal orders a bunch of porn videos for the store while a female customer and her young child are there.
Rating: 4 Lukes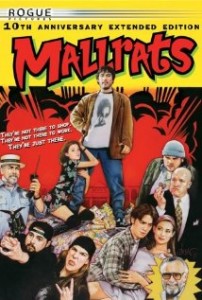 Mallrats
Released: 1995
Written by: Kevin Smith
Starring: Jason Lee, Jeremy London, Claire Forlani, Shannon Doherty, Jason Mewes, Kevin Smith, Ben Affleck, Michael Rooker
Plot: Both dumped by their girlfriends, two best friends seek refuge in the local mall and all manner of hijinks ensue.
For: Smith's follow up film was panned by the critics, and although I agree that it isn't as good as Clerks, it is quite funny and has a certain charm to it. It also introduces the world to the comedic talents of Jason Lee so it can't be all bad.
Against: Overly violent and disjointed, and the stinkpalm pretzel bit is over the top
Favourite Scene: the entire game show sequence
Rating: 3 Lukes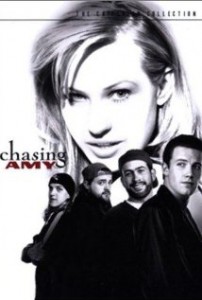 Chasing Amy
Released: 1997
Written by: Kevin Smith
Starring: Ben Affleck, Joey Lauren Adams, Jason Lee
Plot: Holden & Banky are comic book artists trying to hit it big, when they meet Alyssa. Holden falls for her but she is a lesbian and not interested. Then things get really complicated!
For: Interesting story. Decent acting.
Against: Holden is a complete tool and make every scene he's in a chore.
Favourite Scene: Hooper's Darth Vader speech. Genius.
Rating: 3 Lukes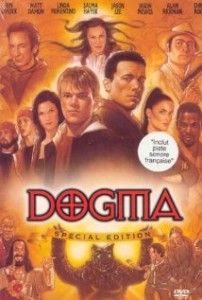 Dogma
Released: 1999
Written by: Kevin Smith
Starring: Matt Damon, Ben Affleck, Linda Fiorentino
Plot: An abortion clinic worker with a special heritage is called upon to save the existence of humanity from being negated by two renegade angels trying to exploit a loophole and re-enter Heaven.
For: Interesting concept. Damon & Affleck are clearly having a lot of fun. Buddy Christ.
Against: Appears to be trying to be controversial for controversy's sake. Not very funny for a comedy. The shit demon……
Favourite Scene: The 2 angels in the board meeting.
Rating: 2 Lukes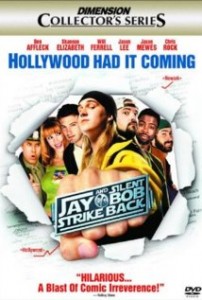 Jay & Silent Bob Strike Back
Released: 2001
Written by: Kevin Smith
Starring: Kevin Smith, Jason Mewes, Jason Lee, Will Ferrell
Plot: The comic 'Bluntman and Chronic' is based on lovable stoners Jay and Silent Bob, so when they receive no profits from an upcoming big-screen adaptation they set out to wreck the movie, encountering an all-girl criminal group along the way.
For: Will Ferrell is hilarious. Cool idea. Actually quite funny.
Against: The all girl criminal team sub plot is boring and pointless. Not as funny as it thinks it is.
Favourite Scene: Jay & Silent Bob tracking down all the haters and beating them up, especially the businessman who makes them wait while he finishes his phone call.
Rating: 2 Lukes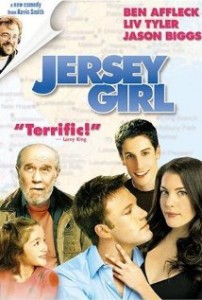 Jersey Girl
Released: 2004
Written by: Kevin Smith
Starring: Ben Affleck, Liv Tyler, George Carlin
Plot: After his career is sidelined from an unexpected tragedy and a personal blowup, a single man must take care of his precocious daughter.
For: George Carlin is great
Against: Everybody else sucks. Acting, Story & Direction are all terrible. Not funny or endearing.
Favourite Scene: None, although Affleck's meltdown is entertaining.
Rating: 1/2 Luke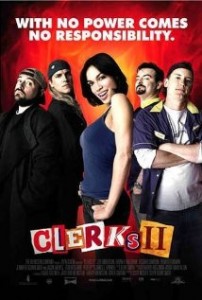 Clerks 2
Released: 2006
Written by: Kevin Smith
Starring: Brian O'Hallaran, Jeff Anderson, Rosario Dawson
Plot: A calamity at Dante and Randall's shops sends them looking for new horizons – but they ultimately settle at Mooby's, a fictional Disney-McDonald's-style fast-food empire.
For: The Lord of the Rings vs Star Wars bit is funny. Good to see Randal again.
Against: Everything else in this travesty of a film is so unfunny that it borders on torture. I will never watch this piece of shit again.
Favourite Scene: LotR vs SW – 'Everything walks in that movie!'
Rating: 0 Lukes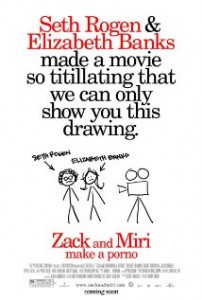 Zack and Miri Make a Porno
Released: 2008
Written by: Kevin Smith
Starring: Seth Rogan, Elizabeth Banks
Plot: Lifelong platonic friends Zack and Miri look to solve their respective cash-flow problems by making an adult film together. As the cameras roll, however, the duo begin to sense that they may have more feelings for each other than they previously thought.
For: Funny idea. Elizabeth Banks is awesome and I will watch any film she is in. Poster is cool.
Against: Comedy not consistent. Seth Rogan can be annoying.
Favourite Scene: The High School reunion, and the first day of shooting on the porno.
Rating: 1.5 Lukes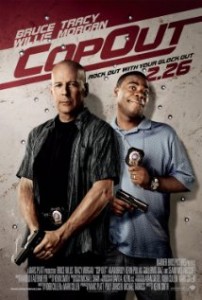 Cop Out
Released: 2010
Written by: Rob Cullen & Mark Cullen
Starring: Bruce Willis, Tracy Morgan
Plot: When a veteran NYPD cop has his rare baseball card stolen. He recruits his partner to track down the thief, a memorabilia-obsessed gangster.
For: I like Bruce Willis and Tracy Morgan – but not in this.
Against: Everything else. It's not funny and the concept is friggin stupid. This is Smith's first film that he didn't write himself and it shows. But to be fair, he doesn't deserve all the blame, the script is a piece of shit. Woody Allen himself couldn't have made this funny.
Favourite Scene: None.
Rating: 0 Lukes
I am yet to see Red State so when I do I'll add it to the post. My hopes are high that it will be a return to form.
Let me know what you think. Agree/Disagree? Leave a Comment, I would love to hear from you!