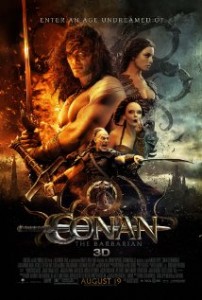 Hi and welcome to Nerd Culture Podcast's inaugural Audio review!
We love doing reviews for our fan's to read, but sometimes real life gets in the way (damn work!) and it can be a bit difficult to find the time. Our normal practice was to see the movie, record ourselves discussing it, then write the review based on that discussion. But the other day I had a brainwave! Why not dispense with the written review and post our discussion, like mini podcasts! And the Audio Reviews were born.
Our first audio review is for the just released Conan the Barbarian remake.
After listening to the review, how about leaving a Comment or send send us an email at feedback@nerdculturepodcast.com? We would love to read your opinions 🙂
CONAN the BARBARIAN
Released: 2011
Director: Marcus Nispel
Writers: Thomas Dean Donnelly, Joshua Oppenheimer, Sean Hood
Starring: Jason Momoa, Stephen Lang, Rachel Nicols, Rose McGowan
Audio length: 24 mins