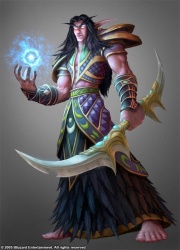 A PvP restoration spec for Druids.
http://www.wowhead.com/talent#0cbZcZMcuIdfMu0ho:mocsroz0m
This spec is set to be able to heal in a variety of ways, but can deal a little bit of damage too. If the enemy target happens to be low, you can help whittle their health down, due to Fury of Stormrage and Starlight Wrath.  Most people say that the best part of Druid heals is always the heals over time, however Healing Touch can also be a very formidable spell if it's given a chance.  With the chance to proc Living Seed, Healing Touch becomes stronger, as well as the Glyph of Healing Touch, which decreases the cooldown on Natures Swiftness.  The Glyph of Entangling Roots should also help to keep the enemies off of you while you are healing friends, or casting Wrath on your enemies.
Some may wonder why I chose to put the Feral spec minor Glyph of Dash into this spec.  The reason for that, is due to Furor, you can turn to cat form (keeping 100% energy), run to a friend in trouble, and either throw a quick Pounce or Rip, and then go back to healing your ally – faster and more often due to the 20% faster cooldown.  Barkskin is needed frequently as well as Tree of Life form to help keep yourself and the team alive during stressful situations.  All in all, this spec should be able to heal very well, and do some damage if your enemy is nearing death, which is needed to make it viable for PvP encounters.
Until next time,
-WoW Yoda