Like all proud nerds I love stuff. Trading Cards, Action Figures, Movie posters etc. But I do have some absolute favourites and top of the list is my Green Goblin statue.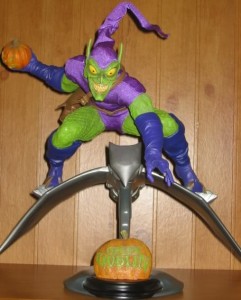 I first saw this awesome statue at Alternate Worlds in Melbourne and instantly fell in love. I didn't have the funds to buy it at the time and vowed to return when I did. Unfortunately, by the time I returned it had been sold and, as it was a limited release, they couldn't get another one in. Despite my disappointment I eventually gave up on ever getting it and eventually forgot about it. But my friend Richo didn't! He managed to track one down, still factory sealed, and surprised me with it for my birthday. What a legend! It has been the centrepiece of my collection ever since.
The Green Goblin statue is from Sideshow Collectables and is ¼ scale polystone, fitted with cloth clothing and hand painted. As expected this sculpture is quite heavy, so I wouldn't recommend placing it on a glass shelf. In fact its weight, size, and the presence of 2 very annoying cats, has made it a bit of a problem trying to find an appropriate place to display it. One day I'll get a proper display case.
Like all Sideshow Collectable statues the quality is brilliant, and features great attention to detail, like the Goblin's trademark grin, pumpkin bomb and leather bag. His notorious glider looks great, and connects to the sturdy base with an appropriate nameplate. I love this statue so much I refer to it by 'Norman'. Weird I know.
Now I just need a ¼ scale Spidey to complete the set!
Some more pics of the Green Goblin statue: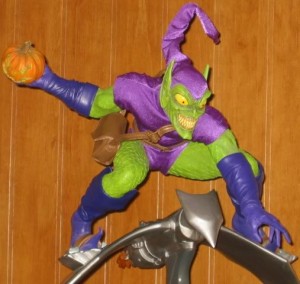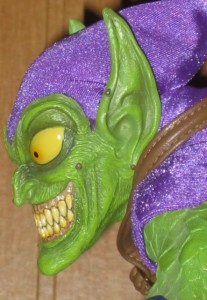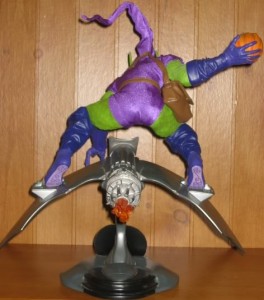 *Disclaimer – I suck at taking pictures so I'm using some I found on the web. If you are the owner of these pictures and want them removed please contact me and I will do so.