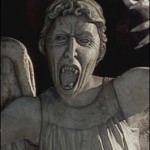 I absolutely loathe Horror – movies or novels.
When I was younger it was purely because I didn't enjoy the sensation of being scared. I couldn't (and still can't) see how pants-wettingly scared = fun. My older sister told me about the movie 'Poltergeist' when I was quite small, and for months I couldn't look at my wardrobe when I went to bed. I still haven't seen the movie, and never intend to.
I still don't enjoy being scared, but with older eyes I have become more desensitised. I can watch a horror or thriller without nightmares that night, but I still don't enjoy it and will avoid it wherever possible. Apart from not enjoying fear, what I mostly hate about horror is that many Horror films now seem to have a very thin plot that is designed to thread together scenes of terror and gore. Some of these films are so bad, that it's actually fun to make fun of them with friends.
Although, I'm sure there are stories out there I may enjoy if I gave them a chance. One of my favourite Doctor Who episodes is Blink, one of the most creepy ever. That episode, while I was creeped out, had me more engrossed in the story because the story was the focus and not the creepiness factor. I also admire the artistic quality of the film Let Me In, but I hated the story.
I guess to sum up, I'd have to say I don't like watching gore for gore's sake. Give me a fine story that I'll be interested in, and I may give your Horror movie a go.