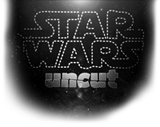 How awesome is this!
Casey Pugh had an idea. On his website – starwarsuncut.com – he split Star Wars: A New Hope into a 15 second intervals and then asked the internet community to film that scene themselves in any method they wished. The response was huge and Casey has now edited all of the footage together to form the full length film. It is an amazing experience, and a must see for all Star Wars fans.
Congratulations Casey and your team, and congratulations also to all of the contributors. Awesome stuff!