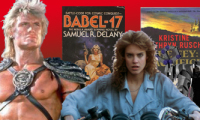 Episode #122 features:
Dust Jacket: Babel-17 by Samuel R. Delany

Discussion: How far should we go to distance creators lives from their works?
Dust Jacket: Sacrifice: Book 1 of The Fey by Kristine Katherine Rusch

Top 5: Top 5 Films/TV we thought were good but later viewings reveal are crap!
Download
(right click and select Save Link As)
The NCP Crew would like to wish all of our fans a very Merry Christmas and New Year!