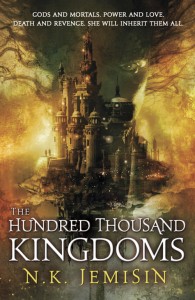 Welcome to the tenth instalment of Dust Jacket and the fifth and final review of the 2011 Hugo Award nominees. This week, we delve into mystery, court intrigue and a healthy dose of mythology as we look at N.K. Jemisin's The Hundred Thousand Kingdoms, book one of The Inheritance Trilogy.
We're in the home stretch now, wrapping things up in anticipation of Saturday night's awards ceremony. I'm joined by my co-conspirator and world's harshest critic, Luke.
WHAT YOU NEED TO KNOW
Yeine Darr is ruler of the northern barbarian lands of Darr, an area isolated both politically and physically from the rest of the Hundred Thousand Kingdoms. Her mother, Kinneth, was a member of the ruling Arameri family and former heir to the throne of the Kingdoms, who abdicated to marry her father. This led to a shism between Kinneth and Dekarta, Yeine's grandfather and ruler of the world, who disowned her.
Shortly after Kinneth dies under mysterious circumstances, Yeine is summoned by her grandfather to the majestic floating city of Sky, where she is named heir to the throne. There's a catch, however; her two cousins, the sadistic Scimina and the inebriated Relad, are also heirs, and only one can ascend to throne. Yeine is suddenly fighting for her life in a dangerous three-way power struggle.
Sky is not merely home to the ruling class of the Kingdom; the Gods themselves are imprisoned there, forced to serve as slaves to the ruling Arameri family. These Gods have a plan for Yeine, something they've been building to for decades.
Yeine wants nothing to do with the Kingdoms, the throne or the machinations of the Gods. She merely seeks the truth about her mother's death. As she struggles to survive, she draws ever closer to learning not only the secrets of her family history, but also the truth about herself.