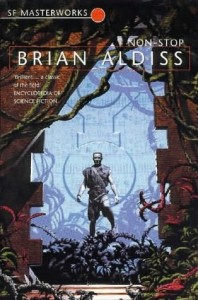 Welcome to the inaugural instalment of Dust Jacket, Nerd Culture Podcast's biweekly review of the greatest Sci-Fi novels of all time. I'm your host, Richo. I'm joined by Luke Walker, the world's harshest critic.
For our first review we're turning our eye to Non-Stop, the 1958 novel by acclaimed British novelist Brian Aldiss.
The environment of Non-Stop is a Generation Ship, a starship travelling across such vast distances that whole generations will pass before it reaches its final destination. Something has plunged the ship into barbarism; the history of the vessel has been lost in time and buried in fable and metaphor, and most of the inhabitants have lost the knowledge that they're even on a ship. The inhabitants gather in primitive tribes that roam the decks and corridors of the starship, meting out a harsh, simple existence and fending off the myriad threats that surround them.
One such inhabitant is Roy Complain, a hunter from the Greene Tribe dissatisfied with his lot in life. This dissatisfaction makes him open to manipulation by Marapper, who recruits him and several other followers on a journey to "Forwards", the front section of the ship, where the priest believes he will find the "Control Room", which will enable him to seize control of the ship.
A perilous journey ensues, each step revealing more of the nature, history and mystery of the generation ship. Slowly, Complain unravels the secrets of his world and those that inhabit it. Along the way he encounters mutants, scavengers, intelligent rats and giants, and even finds love in the form of Aur Vyann, an inhabitant of the more culturally advanced Forwards.