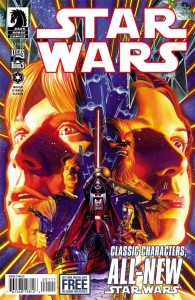 This week I am reviewing the new Dark Horse Star Wars series by Brian Wood.
I have been a Star Wars fan for quite a few years. I have watched the six films many times and although Episodes I to III did not live up to the hype, the two trilogies rank very high on my movie lists.
When I started my journey into comics, Star Wars was a familiar franchise so Star Wars comics were always going tickle my fancy. From some research there have been many different series ranging from many different timeframes in the Star Wars universe. I have read 2 or 3 different Star Wars series and so far I have not been disappointed. If you would like to know which other series I have read let me know and I'll reveal all.
So far in this series written by Brian Wood and art by Carlos D'Anda there have been two issues released and I have read them both.
This series is set shortly after the ending of Star Wars Episode IV and is split into three storylines:
Luke and Leia's search for a new base for the rebellion;
Han and Chewie's quest for Mon Mothma; and
The consequences for Darth Vader after the Death Star was destroyed.
Of the three storylines so far I am enjoying Darth Vader's the most. After the destruction of the Death Star, he is out of favour with the Emperor and I cannot wait to find out what he does to get back in the Emperor's good books. That being said the other two storylines are well written and are quite intriguing. It is fun doing the voice of Chewbacca in my head.
The artwork by Carlos D'Anda is really good throughout the first two issues. I was really impressed with how both Leia and Darth Vader were drawn.
I give these two comics 4.5/5 Lukes.
This series will have a permanent spot on my pull list for quite some time.  It has been quite a popular series so far so it might be tricky to find the first two issues but never fear as you can always wait for trade.
I would love to hear your feedback.  Please comment below or you can contact me via Twitter @bennykane1983.  If you have suggestions on other titles that I should read would love to hear from you.
Look out for my next review soon.
Benny